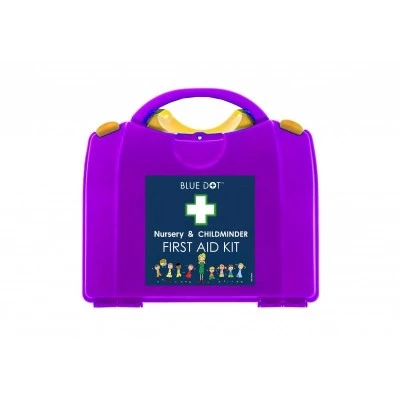 New Top Brand
Blue Dot Child Minder & Nursery First Aid Kit
Child minder and nursery first aid kit which contains the essential items for children for use in a creche, nurseries, montessori, schools and home. The contents contain first aid for up to 10 persons, ideal for all the little bumps! All plasters in this kit have been manufactured using hypoallergenic adhesive.
Easy click on/off wall mounting bracket included, just grab and go.
Contents
1 x Safety Pins Pack of 6

1 x Gauze Swabs 5cm x 5cm (Sterile)

1 x Microporus Tape 2.5cm x 10m

4 x Low Adherent Dressing 5cm x 5cm

1 x Finger Dressing 5.0cm x 5.0cm

4 x Triangular Bandage

2 x Childrens Plasters (10 Pack)

2 x Eye Pad and Bandage No.16

2 x Large Dressing 18cm x 18cm

6 x Medium Dressing 12cm x 12cm

1 x First Aid Guidance Leaflet

1 x Gloves (Pair)

1 x Resuscitation Device (Foil Pack)

1 x Scissors

6 x Saline Wipes

1 x Plasters (Bag 20)
NEXT DAY DELIVERY as standard!! Hayes First Aid Supplies is Ireland's first choice for premium quality first aid & medical supplies, occupational health & safety training, defibrillators and after sales service.

Stock:

10

Model:

90858

Weight:

0.00kg
BLUE DOT