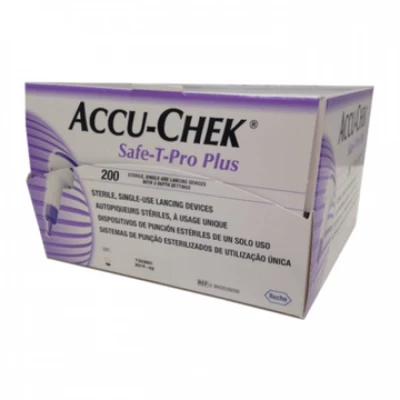 ACCU-CHEK Safe-T-Pro Uno lancets 200's
Roche ACCU-CHEK Safe-T-Pro Uno lancets 200's
Safety-engineered lancet for enhanced staff and patient safety
The Clinical Challenge
Staff and patient safety is a top concern for every healthcare facility. Minimizing health risks faced by workers and patients due to exposure to bloodborne pathogens is also part of complying with stringent OSHA directives.
The Clinical Solution
The ACCU-CHEK Safe-T-Pro lancet is designed with special internal safety tabs to prevent reuse, and meets OSHA requirements mandating "safety-engineered" needle devices to reduce such risks.1
This easy-to-use, single-use lancet adds protection by permanently retracting into its protective case after use, preventing accidental fingerstick. And the ACCU-CHEK Safe-T-Pro lancet delivers the blood sample you need to perform the test your patient requires.
From the moment you choose to use it until the moment it's discarded, the ACCU-CHEK Safe-T-Pro lancet meets safety standards expected from you, your patients, staff and OSHA as well.
Stock:

4

Model:

05888662150

Weight:

0.00kg